http://smilingsally.blogspot.com/
These little precious pretties came from Jack's grandmother who they affectionately called "little grandma".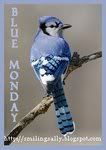 I love this tiny aqua blue ashtray. I've researched and not been able to find out any information about it. There is no inscription on the bottom to give me any idea where it came from. My FIL has more boxes of little grandma's so I'm hoping I can piecemeal things together.
Emmet Kelly
I have never been a fan of EK. I'm "one of those" who doesn't like clowns. His clowns were never scary-just the poor ragamuffin look that he is so famously known for.